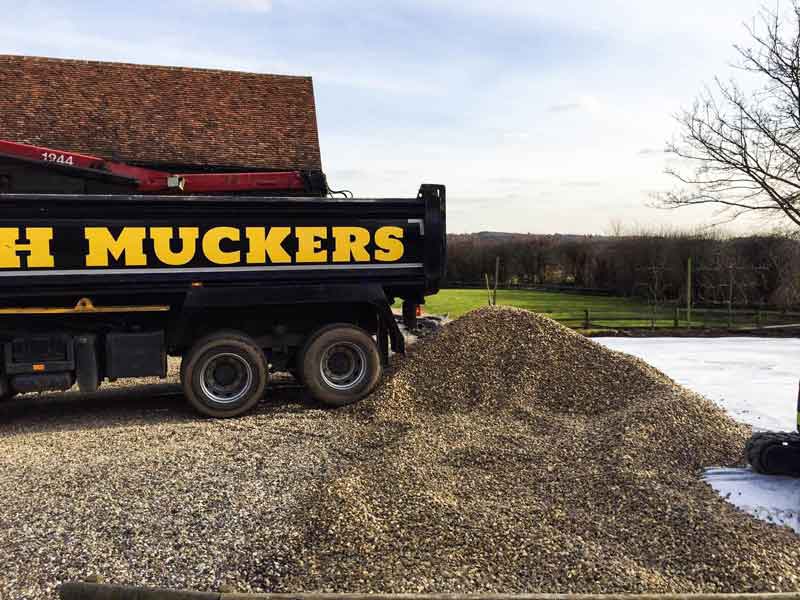 8 Wheel Tipper Hire in Hertfordshire
HH Muckers can provide you with tipper hire services in Hertfordshire and surrounding areas. Our tipper hire lorries can carry roughly 20 tonnes per load.
Hiring a tipper truck is a cost-effective way of dealing with masses of materials and a tipper lorry can help you reach those less accessible jobs. Tipper hire is ideal for excavation work and aggregates and materials delivery or collection.
We are a reliable company and can provide tipper hire and aggregates supply services on the same day as being contacted.
While providing tipper services, we can also provide an aggregates supply service. Our lorry can arrive with an aggregate of your choice, offload to one part of your site and then before leaving, load the remaining waste material.
Our company is registered with the Environmental Agency as a registered carrier of waste and we collect and dispose of waste materials in compliance with all regulations. All of our tipper hire operators are fully licensed, trained, experienced and insured.
All of our trucks are fitted with an onboard weigher and easy sheet. We have reverse cameras and beepers on all of our new vehicles.
Our tippers can remove and deliver:
Muck
Clean Inert
Crushed Concrete
MOT Type 1
Sharp Sand
Building Sand
Ballast
Pea Shingle
Topsoil
How Can I Contact HH Muckers?
Call our experts for more information on 01992 635454 or fill in our online form.